There are more than 7500 varieties of this fruit, of which are mainly red, yellow, and green in color. The skin is thin and firm at the same time. The inner part is thick, juicy, and soft if it is fully ripe. The inner core of an apple contains grains that are very difficult to digest. As a matter of fact, apple is a nutritious fruit with lots of benefits.
Different and simple recipes with this delicious fruit
Apple fruit can be eaten both alone as a meal and in fruit salads. Besides, apple juice is one of the most widely consumed beverages in the world. You can cook, chop, crush, freeze or even dry this amazing fruit. It's interesting to know that, you can simply mix different juices and make a delicious drink for your evening, breakfast, or lunch.
The nutritional value
The long list of apple fruit properties goes back to its constituent ingredients. To be more specific, apples are rich in vitamins, minerals, nutrients, and valuable organic compounds. Vitamin C, vitamin K, vitamin B6, and riboflavin are some of the vitamins found in them. Potassium, copper, manganese, and magnesium are the useful minerals that also exist in this fruit. Moreover, they are high in fiber. In fact, eating an apple provides 12 percent of our daily fiber needs. Generally speaking, they are rich in phytonutrients and flavonoids such as quercetin, epicatechin, and fluoride. Besides, they contain a variety of polyphenolic compounds.
Tips for buying and storing apple
When buying an apple, make sure it is firm. Avoid buying wrinkled ones, as they have lost most of their nutritional benefits and values. Overripe ones are also not a good choice. The result is the production of a gas called ethylene. This gas can cause spoilage of the fruit, so if an apple is overripe and on the verge of spoilage, remove it from other fruits to prevent spoilage, and try to consume it as soon as possible. Ultimately, it's important to buy your fruits from reliable seller; otherwise, your health may be in danger. Infinity Nuts is one of those reliable suppliers of healthy and organic fruits. You can be sure about the product you buy from this company. High quality, organic, healthy, and fresh fruits are waiting for you!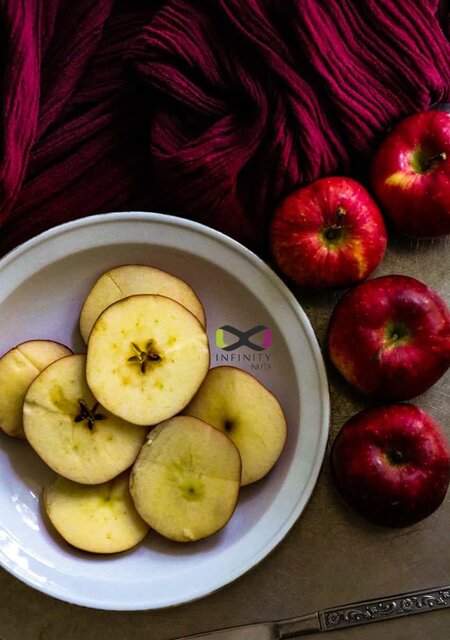 End Item