Fears of low demand increase, as Coronavirus sets new records across the world. It is though unclear what will come next. To better predict the future of world's economic growth, it is vital to have an updated understanding of the coronavirus's impact on the oil industry.
That is why Infinity Galaxy, created a brief history of what has happened to oil prices during the Coronavirus pandemic in our newest video.
The world's economy is affected severely by the outbreak of Coronavirus.
In the first weeks of the crisis, the coronavirus pandemic led to huge losses in demands and sent the oil prices down. This was the result of the closure of ports in different countries and a sharp decline in fuel consumption.
Following the biggest slump in oil demand for 25 years, the benchmark price for Brent crude dropped by more than 5% to $28 a barrel on March 15.
Things went worse in the following days. In some parts of the US, where demand was lower than oil supply, the prices dropped below zero on April 20. The price of US crude oil declined from $18 to -$38 a barrel, after Coronavirus forced oil demand to its lowest level and producers ran out of space to store the oversupply of crude oil.
Despite the fact that the negative oil price was a common trend in the commodity market and crude prices started to recover afterwards, the situation showed that COVID-19 posed a significant risk against overall oil consumption around the world. Some analysts expect oil demands will not fully recover until 2022.
Below is a brief overview of what has happened to various oil price benchmarks during the Coronavirus pandemic.
Coronavirus Impact on Crude Oil Price
Before Coronavirus pandemic, the outlook of Brent crude oil was positive in the first days of 2020. Prices rose to their highest level, reaching $70 on January 6.
However, with the spread of the Coronavirus beyond Asia, as well as the closure of oil importing countries' borders, Brent crude oil hit $35 on March 9. As oil demands declined, due to Covid-19, Brent crude oil went down to $9 on April 21.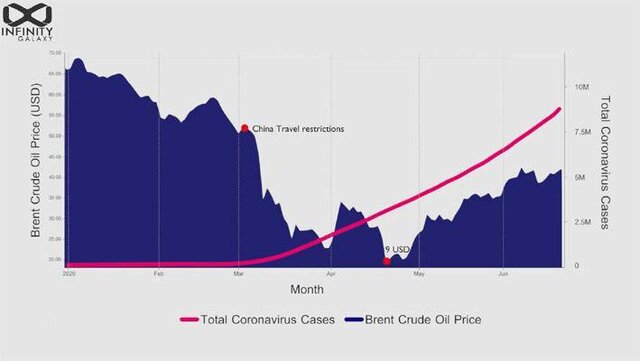 Coronavirus and Negative Oil Price
West Texas Intermediate crude was not different. On January 6, WTI reached $63, which was the highest price in the current year. By Covid-19 spreading all over the world, WTI dropped 28% to $32 a barrel on March 9 and marked its sharpest decline, when it hit $11 on April 21, 2020.
OPEC's Oil Price Drops Due to Coronavirus Outbreak
In the final part of our video, we consider OPEC's oil price losing its value during the Coronavirus outbreak. The OPEC's highest oil price in 2020 was recorded on January 6 at $70. As demands declined due to Covid-19, the prices declined to $37 on March 10. The lowest price for this oil was $12 on April 22.
End Item