Condé Nast which is located in New York and considers as one of the most widely circulated tourism publications in the world, has made a list of 19 sacred sites around the world, from ancient churches to hilltop temples that the "Pink Mosque" or "Nasir al-Mulk Mosque" in Shiraz is selected as the top image of this list.
"Spiritual experiences come in many forms, from the religious and intellectual, to those centered in art and nature. And so often, these moments are brought on by travel—sometimes unexpectedly, and sometimes because we journey in search of sacred sites, through pilgrimages, sabbaticals, and even solo trips, usually in times when we need an awakening the most," the magazine said.
"Nasir al-Mulk Mosque" also known as "The Pink Mosque," in Shiraz, Iran, is famous for its stunning array of colors—thanks to a unique combination of stained glass windows and mosaics.
When Nasir al-Mulk was built in 1888, it was specially designed to take advantage of morning light, and the sun filtering through the windows creates a rainbow effect, highlighting the jewel-toned tiles and rugs in the interior. If you're able to visit the mosque, make sure you go early for the best view.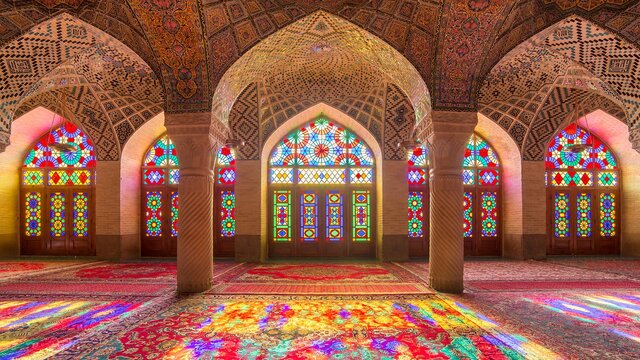 End Item
Follow us on Twitter @Isna_Int