You can watch long videos by tapping the IGTV Icons, but like YouTube you have no option to download and save videos. IGTV does not have offline saving mode so you cannot download them. Thus, you need to use web-based tools or related Apps.
Here are 3 ways to download IGTV, which you can use on Android, iPhone, PC or Mac.
Download IGTVs with Android app
If you want to save IGTV videos to your Android device, you need to download the
photo and video downloader for Instagram -Repost IG app from Google Play.
This app is used to repost the Instagram post, save pictures and you can also download IGTVs. This app is provided by. Once you've installed it, open it and tap Allow when you are asked for access. Now go to your desired IGTV page. You just need to tap on the 3 dots and then tap on 'Copy Link'. Then a few options will appear. Select the Download icon to save the IGTV video to your phone.
Download IGTVs with Regrammer (IOS app)
Regrammer is the best way to repost photos, videos, stories, and IGTV videos to Instagram.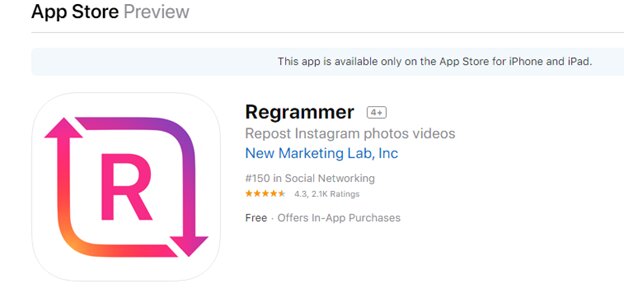 Regrammer needs iOS 10.3 or later and it is Compatible with iPhone, iPad, and iPod touch. As above, you need IGTV's URL, so tap on the 3 dots and then tap on 'Copy Link' and paste it on Regrammer download box and save it. Just it!
Download IGTVs ONLINE by Web-based tool
Alo Instagram is a comprehensive and efficient site with great tools, as it is completely free. There is no need to pay for the service. Some of these tools include downloading photos and videos from Instagram, Story, IGTV as well as Hashtag monitoring tools. Although there are many Apps, web tools, and websites for downloading media from Instagram, But AloInstagram tools are different. Other tools can download only one content from a post, but with our fantastic, fast and secure tools, you can easily download all the photos and videos (Instagram carousel and Instagram slideshows) at the best quality at the same time.
Aloinstagram's save video ig tool helps you to download your favorite IGTV from Instagram. If you have desired IGTV video URL then you can download it online with just one click. By using Aloinstagram's save video ig tool you can download IGTV video at the fastest possible time.
Follow bellow steps:
Step 1. Go to the IGTV section of the profile that you want to download video from it.
Step 2. Pick the video that you want to download, and play it. On the video, there's a three dot button. Tap it.
Step 3. select "Copy Link" from the menu.
Step 4.Go TO igtv downloader Tool and Paste the copied IGTV link in the above box.
Step 5. Finally click on "Download" button.
End Item