FOAM EVA is a polymer made from a combination of ethylene and vinyl acetate.
In addition to being used in sports and tatami flooring, also used in the manufacture of footwear, sportswear, heavy industry, automotive , foam roll and flower making foam and craft foam.
It is very easy to cut and use the FOAM EVA.
This product is produced in different colors and thicknesses.
Foamiran products have HIC, Sgs, ISO9001, ISO14001, OHSAS 18001 certification.
FOAM EVA ingredients
A high quality foam requires a precise formula to produce it.
Specialists should carefully consider the ratio of each of the raw materials and catalysts and work on producing as many products as possible.
The main materials include:
• Ethylene vinyl acetate plastic particles
• Copolymer
• PE
• Calcium Filler
• powdered
• Foam Enhancer
• Lubricating agents
In addition to the main constituent elements and the basic foam formula mentioned above, it is necessary to use additives in different conditions to produce a high quality foam.
Black and white are the basic colors for FOAM EVA.
For the production of thermal insulation we need firefighting materials to add to our formula.
In addition to producing anti-static packing foams, we can add a foam product to the original formula to protect the expensive electronic objects.
Preparation of foam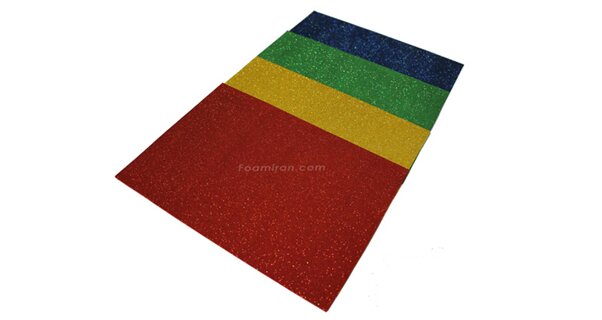 After preparing all the formulas, we will move on to the next step.
The ratio of additives in the chemical formula must be carefully observed.
1- It is important to use a mixer
2- These machines must be sealed and capable of holding large volumes of raw materials.
3- Machinery must be capable of mass production and optimization.
After making sure the above materials are available, pre-prepared materials are now exposed to high pressure and heat in the mixer and blend together.
Specialists must carefully monitor the amount of heat and pressure to perform these operations.
After a certain period of time, the product preparation process is complete.
Also preparing the liquid plastic mixture, pour it into the mold.
The device must be positioned at the proper speed.
Specialists should be very careful about the preparation process.
Control Thickness of Molds:
Because the foam thickness standard must be observed.
Once the molds are placed in the machine, the material inside it, which is a plastic liquid, is put under extreme pressure.
After the molds are prepared, the rolling process must be performed on the foam sheet material at the appropriate speed.
The sheets are not ready yet and there are 2 more steps left.
Foam-generating heaters act like a toaster.
The device must be set to the appropriate temperature and pressure.
Different temperatures can affect thickness, quality and density.
In all the above processes, high density FOAM EVA is used.
Workers collect foam sheets and carefully place them into molds.
The molds are completely stainless and have high resistance to heat and pressure.
size of molds
Usually the sheets are 2 meters long and 1 meter wide.
To clarify, the approximate degree of hardness of some rubber and foam derivatives is as follows:
• Kindergarten Flooring: 1-3
• Federation Standard Tatami: 1
• Footwear soldier boots: 1-6
• Car tire: -5-6
• Skate Wheel: 1 - 2
• Vacuum Cleaner Tube: 1
There will be no problem for large foam rolls.
There are special machines for producing foam sheets that allow us to produce sheets of different sizes.
The materials inside the mold are subjected to high thermal pressure.
After going through these steps and being exposed to high heat, the foam is ready with the desired thickness, color and quality.
These foams are very thick but very soft and flexible and can be converted into different shapes and thicknesses.
It is important to note:
The colors are struck after the production of FOAM EVA sheets.
Colors include:
Black and white are the base colors and can also be applied to foam in blue, red, green as well as yellow.
Note:
FOAM EVA materials have different flexibility, hardness and cellular structure.
Advantages of FOAM EVA and Its Different Applications
• Flexibility of FOAM EVA sheet
• Elasticity
• Insulation foam roll
• Resistance
• Ability to float on foam sheets
People usually do not need large, thick EVA sheets.
Foamiran has increased the ability to produce customized foams.
Initial FOAM EVA sheets are very thick during production, and buyers generally want thicker foams and ask us to produce thinner foam sheets.
Our advanced machines are capable of cutting FOAM EVA sheets in different thicknesses.
This machine is capable of cutting all kinds of polyethylene foam, polyurethane foam, rubber sheet and so on.
Specialists first set up the cutting machines and then place the large foam sheets into sharp blades.
Flower making foam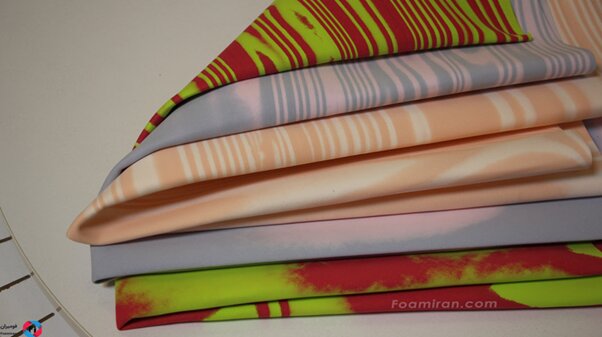 foamiran are used in training centers for teaching and making decorative blender flowers. The blooming foam blooms are 2 x 2 and 2 x 2 cm foam foils with a thickness of 2.5 mm which can be cut into different flowers, trimmed and stitched together to create beautiful flowers by flower making foam.
foam roll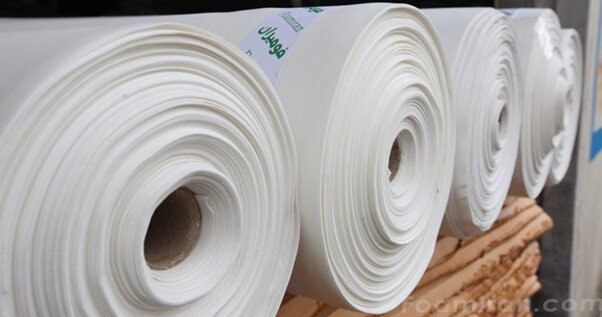 foam roll has many uses and is used in many industries including bags and footwear, automotive, construction, as well as for insulation and parquet flooring.
It is possible to sell products wholly or partially. To buy products, dear customers can register their order online by visiting the site and selecting the product.
Shipping to all cities in the country is possible. foamiran have been exported to 45 countries and foamiran have played an important role in promoting foam exports in the country.
End Item