The world's economic outlook is highly affected by an abundant supply in U.S crude. American Crude inventories' supply rose by 9.3 million barrels in the week through Oct. 11, suggesting that the prices will drop.
China, the world's largest crude importer is looking forward to hopeful trade negotiations with the United States. The oil market is now waiting for U.S. and Chinese agreement to settle the crude oil market.
The price of crude oil is always assessed for estimating bitumen price. Although the bitumen price is fluctuating in response to the changing prices of fuel oil, Iranian bitumen continues to attract decision-makers in the Asian bitumen market.
Iran is one of the world's top ten bitumen export hubs with an average export capacity of 3.5 million tons in bulk and drum per year. Iran provides its bitumen from two main refineries, which are Jey Oil and Pasargad Oil and other 300 private limited companies. Iran has exported bitumen, specifically 60/70 grade to more than 92 countries in the world. Bitumen is categorized into 8 types.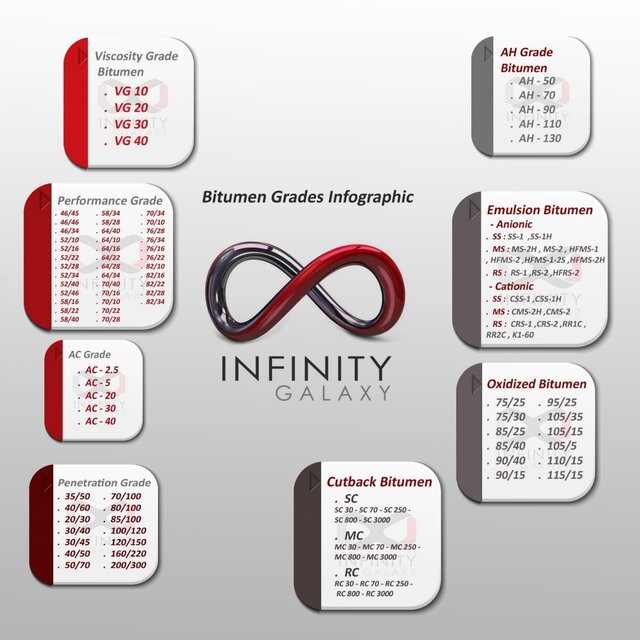 1-Bitumen Penetration Grade
These grades of bitumen are named due to their level of hardness and consistency of bituminous materials. The harder the bitumen solution the better it is for use in hot temperatures.
Generally speaking, bitumen penetration grades have a thermoplastic property which causes bitumen to get soft at high temperature and hard at low temperature. Bitumen 40/50, 60/70, 80/100, 85/100 are useful for road construction in various climates.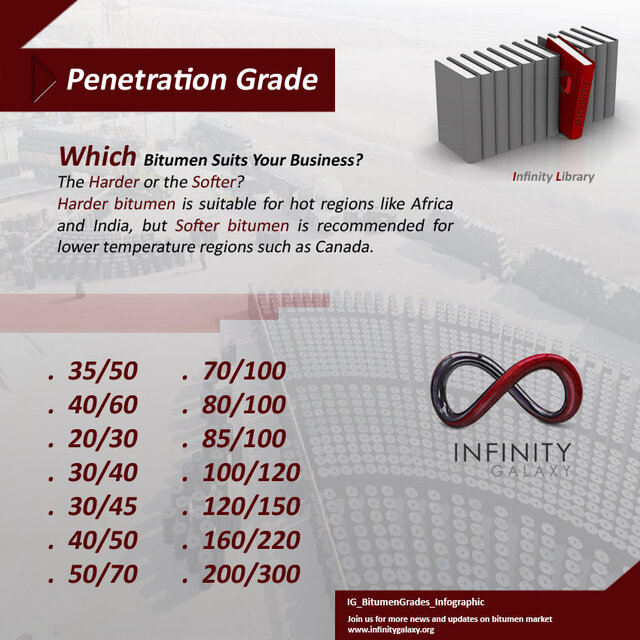 2-Bitumen Viscosity Grade
One of the most prominent ways of grading bitumen is based on the results of the viscosity test. This test is done for determining the fluid property of bitumen. Conducting a viscosity test on bitumen leads to the classification of bitumen in a range of grades from 10 to 40. Low viscosity bitumen is great for spraying and pavement maintenance, mainly because it is softer.VG bitumen is mostly used in road constructions, pavements, insulation, buildings. These specific types of bitumen are recently more devoted to India's market. The reason is the newly approved law of the National Highways Authority of India (NHAI).
3-Bitumen Performance Grade
Performance grades of bitumen are classified based on tests related to bitumen performance in various temperatures. Known also as Superpave performance grading of bitumen, these grades are better solutions for engineers who want to avoid raveling, fatigue cracking, and thermal cracking.
4- Cutback Bitumen
Cutback bitumen grades are categorized due to their production process. Cutback bitumen grades are produced by adding solvents to bitumen, to decrease the viscosity level. This procedure involves the addition of controlled amounts of petroleum extracts such as kerosene, naphtha, diesel oil, and furnace oil to bitumen. Moreover, cutback bitumen doesn't need to be heated. In comparison with other types of bitumen, the volatile solvents in cutback bitumen met the need for heating by alleviating its viscosity. Cold weather is the place where cutback bitumen is widely used.
5- Emulsions
Since cutback bitumen include volatile solvents which are toxic to nature, human and environment, emulsions came to the industry. To solve the problem, various grades of bitumen emulsion has been introduced. The bitumen content in the emulsion is around 60% and the remaining is water. As a result, water is released when the emulsion is applied on the road and the mix starts to set. There is also another reason behind bitumen emulsion grades becoming energy efficient: there is no need to heat them. This product is beneficiary to waterproofing and coating in road construction. Convenient transportation, economic efficiency, and safety at work are the main advantages of this product when it comes to asphalt specialists.
6-Oxidized Bitumen
Oxidized or blown bitumen grades are named after the way they are produced. By blowing air into bitumen, the substance becomes rubbery. Among unique specifications of blown bitumen are flexibility, increased durability, and resistance to water. When the oxidation happens to bitumen, it will also use its water content and become less volatile and less temperature susceptible.
Oxidized bitumen grades are recommended for various industrial purposes, including roof insulation, flooring, industrial mastics, pipe coating, and paints.
7- AC Grades Bitumen
Ac grades of bitumen are the equivalent of viscosity grades used in the United States. In other word, the AC-30 bitumen viscosity grade is just like VG-30 in India. Beware for grading AC bitumen, viscosity level will double from grade to grade.
8- Aryl Hydrocarbon Bitumen or (AH Grades)
AH grades are another type of bitumen for which demands are mainly from China.
End Item