Modern man does not have enough space and time for farming and using agricultural products. Therefore, he has found a new and fast way to supply his needs that has made significant changes in qualities and quantities of food in general. But how did our ancestors supply and prepare their food, and what qualities have their food?
Do cucumbers and tomatoes which are planted in rich and fertile soil and it takes months to harvest them, have the same quality as the artificial? Is the food made of organic and high-quality ingredients comparable to fast food in appearance, taste, and quality? The harmful effects of inorganic and industrial products are so serious and extensive that increase people's motivation to revive traditional food in all societies. What was the ancestors' way of cooking? What kinds of ingredients did they use and profit by?
Khorasan which is a vast land in the east of Iran has a rich culture and history. Beside cultural diversity, geographical location and different tribes' presence that moved in and out due to wars and struggles, various kinds of delicious food appeared in the heart of this wide area that satisfies all types of taste.
In this short report you will become familiar with the top ten dishes of Khorasan. The name, ingredients and recipe of each dish is briefly explained.
Shishlik
You can experience the genuine pleasure of eating barbecued lamb's ribs in Shandiz, Khorasan Razavi. Shishlik with worldwide popularity is one of the expensive and traditional Iranian dishes. It is made of 6 pieces of lamb's ribs. In Persian the word "Shish" means six, and "Lik" refers to ribs. The recipe of marinating the ribs is the art of Khorasanian chefs that attract thousands of tourists to Shandiz from different parts of Iran and neighbor countries each year. Traditionally, Shishlik is served with rice and barbecued tomato, while serving side dishes, such as raw onion and different types of pickles are also a must!
Shole
Shole is a traditional dish in Mashhad, Khorasan Razavi. It is one of the common votive foods which is cooked in this city. Shole is a very nutritious meal, and the cooking process takes much time. The ingredients are mutton, pinto bean, white bean, mung bean, pea, lentil, wheat, broken rice, salt, black and red pepper, cloves, ginger, nutmeg, and cinnamon. The more amounts of mutton uses, the tastier it is. Traditionally, Shole is served with some Gheymeh (a kind of Iranian stew) as the sauce.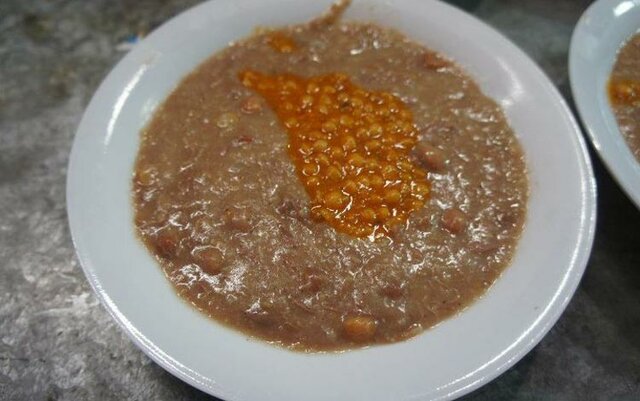 Broken Wheat Ash
Ash is the name of an Iranian meal cooked in different types. It is like between soup and stew which is rather thick and served hot. Broken Wheat Ash is one of the traditional dishes in Neyshabur, Khorasan Razavi. The people have a keen interest in this meal and cook it as votive food in special ceremonies. The ingredients are broken wheat, pea, kidney bean, fava bean, lentil, eggplant, tomato, onion, leek, parsley, coriander, dill, oil, salt, and pepper.
Fenugreek and Cumin Ash
This dish is another traditional food of Neyshabur. It is a beneficial meal for women who are in their postpartum period. Fenugreek has different medical virtues. It has the property of controlling both blood sugar and blood lipid. It is also a good remedy for obesity and diabetes. To cook this delicious Ash, ingredients such as rice, fenugreek, black cumin, turmeric, and salt are needed. Some dried plum can be added to make it tastier, and you can use sugar instead of salt, due to your taste.
Toogi
It is one of the delicious dishes of Gonabad. The main ingredients are minced meat, lentil, millet, fried onion, mint powder, turmeric, and salty curd. This meal is cooked mostly in winter.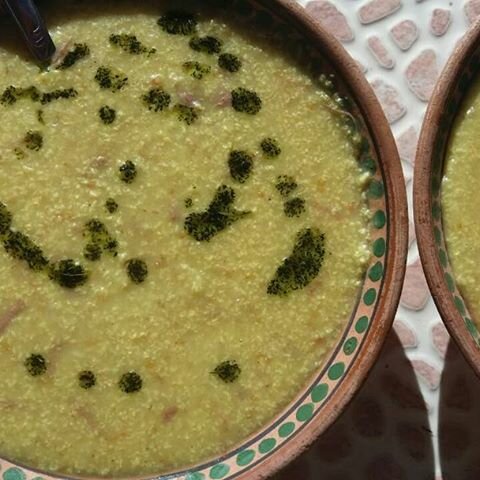 Joosh Pare Ash
Enjoy cooking another traditional dish of Gonabad by putting some ingredients like lentil, sesame, pistachio or almond, dried apricot, poppy and spices in small dough pieces and cook them in boiling water. This meal is served with some salty curd as the sauce.
Lakhshak Ash
This food also comes from Gonabad. Lakhshak is thin and rather square shaped pieces of dried dough. Other ingredients are lentil, leek, spinach, and again salty curd as the sauce.
Digche
Digche is a kind of dessert that people in Mashhad cooked in their religious ceremony. It is also a good choice for Iftar time in Ramadan. Digche is made of rice, milk, sugar, butter, cardamom, rosewater, and saffron.
Satry Polo
It is a very tasty dish made of rice, meat ball, raisin, carrot, and saffron. Some dried barberry can be used for decorating.
Gharotu
Gharotu is a traditional food of Bojnord, Khorasan Razavi. The main ingredients are salty curd, vegetables like leek, parsley, tarragon, licorice, and onion, walnut, dried mint powder, animal oil, and turmeric. This meal is served with bread.
End Item