Millions of Iranian people in various cities and counties across the country are marching to celebrate the nation's victory that put an end to the monarchical rule of the US-backed Pahlavi regime.
More than 6000 domestic and foreign journalists, photographers and cameramen are covering the event, 250 of them are foreigners.
In the capital, Tehran, the ceremony started at 9 am local time and people and officials descended on the iconic Azadi Square, where Iran's President Hassan Rouhani delivered a speech.
President Rouhani appreciated people's attendance in the 22nd Bahman demonstrations marking the victory of the Islamic Revolution, adding: "This passionate and magnificent presence is a response to the new conspiracies of the United States against the Iranian nation and the actions of the Zionists in the region".
Speaking to reporters during the 22nd Bahman demonstrations on Sunday, Dr Rouhani also described the demonstrations as the "announcement of unity and integrity of the Iranian nation and their pledge to the late Imam Khomeini to continue the path and causes of the Islamic Revolution".
He also said, "Ahead of the 40th anniversary of the victory of the Islamic Revolution, we must get ready more than before to serve the people".
"Next year, all parts and sectors of our country, including universities, sports centres and cinemas must be replete with vitality and great successes," the President of the Islamic Republic of Iran continued.
Dr Rouhani added, "Once again, the government makes a pledge to the causes of the late Imam and the dear people of Islamic Iran, emphasising that it will stay loyal to the causes and the path of the Islamic Revolution and the late Imam".
This year, rally organizers in Tehran have put on display the replica of long-range ballistic missile known as "Ghadr".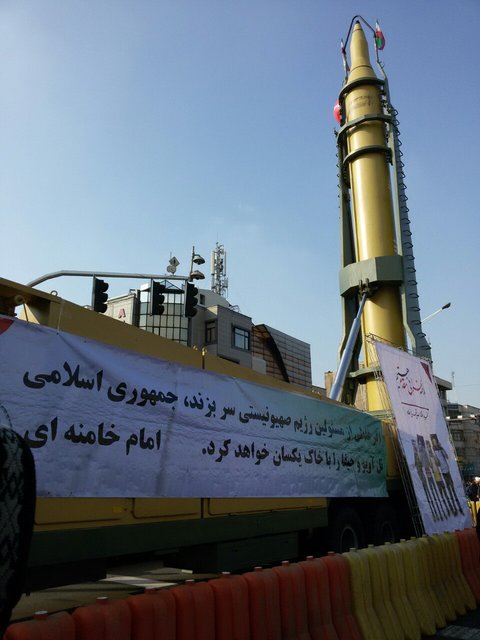 Iranian political and military officials have also attended the rallies along with other people to rejoice at the auspicious ceremony.
The crowd of demonstrators in the rallies paid tribute to the late founder of the Islamic Republic, Imam Khomeini, under whose leadership the revolutionary movements triumphed over the despotic regime of Pahlavi on February 11, 1979.
The day of Imam Khomeini's return to Iran from exile (Feb 1, 1979) marks the beginning of the Ten-Day Dawn ceremonies which culminate with the anniversary of the victory of the Islamic Revolution on February 11, 1979.

Iranians toppled the US-backed Pahlavi regime 39 years ago, ending 2,500 years of absolute monarchy in the country and establishing the pillars of the Islamic Republic.
End Item