During the meeting held in Tehran, the two sides explored the latest military and political developments in Syria.
They also discussed the agenda of the sixth round of Astana talks and the details of the four de-escalation zones in Syria.
The Russian special envoy on Syria, for his part, said Tehran and Moscow currently have a good level of relations while the two sides' officials are negotiating to further bolster ties.
He also highlighted the importance of his current visit to Tehran and talks with Iranian officials ahead of Astana talks.
Before the meeting, Lavrentiev had held discussions with the Secretary of Iran's Supreme National Security Council Ali Shamkhani.
During the meeting, Shamkhani said, "The valuable results of the strategic cooperation among Iran, Syria, Russia and the resistance front in the genuine fight against terrorism are constantly emerging in the political spheres and battlefields".
"The commitment of all sides to a Syrian-Syrian solution and observation of the right of the country's people to determine their own fate without foreign intervention will prepare the ground for accelerating [ways] to reach a result and solve the crisis," Shamkhani added.
The Russian envoy, for his part, said Tehran, Moscow and Damascus are playing a decisive role in the real campaign against terrorism.
Lavrentiev added that his country still believes in military action against terrorists and will continue its relentless efforts to fight Daesh and the al-Nusra Front terrorists.
Lavrentiev is on an official visit to Iran for exchanging views with the Iranian officials on the latest developments in Syria and strengthening the ceasefire regime in the war-torn country within the framework of Astana Process.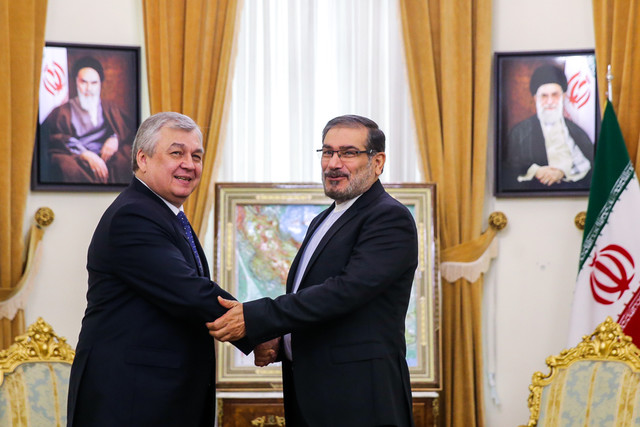 End Item