Hamid Reza Bidkhori, MD, PhD is an assistant professor at the Stem Cells and Regenerative Medicine department of ACECR in Mashhad. His primary career focus has been developing stem cells technologies for viable clinical applications. Dr. Bidkhori has contributed to establishing high-tech research labs and a cGMP facility in Mashhad.He also coordinates an International consortium, MashhadStemCells, with the primary target of creating convergence among diverse stakeholders of stem cell science and practice in the northeast of Iran.
In an interview with ISNA, he comments on the future of stem cell applications in Iran in the post-COVID era.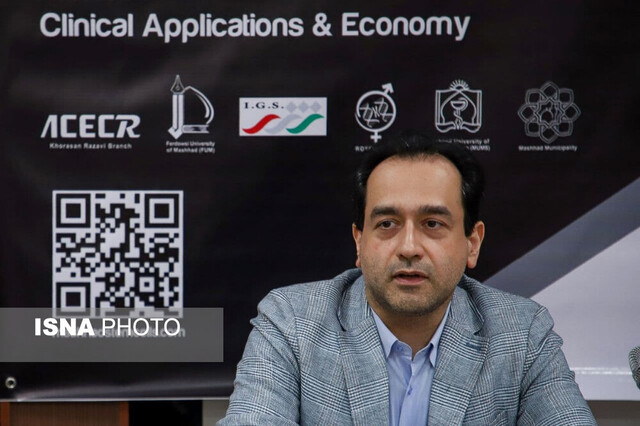 How has the pandemic affected stem cell research around the world? Do you believe it is recovering now?
After two years since the onset of the pandemic, the global economy is thriving to achieve a robust post-recession recovery in the coming year. But the rebound is estimated to be uneven across countries, depending on their technological and economic capacities. Stem cell technologies and services are no exception. Before the onset of COVID-19, stem cell therapy had become a very promising and advanced scientific research topic. The development of treatment methods has evoked great expectations. People are expecting to benefit from these innovative therapeutics as soon as possible.
After emerging this novel coronavirus in late 2019, the global healthcare industry tried every viable option to suppress the global threat, including cell-based therapies. What first engaged both scientists and the public was whether stem cells could solve this therapeutic challenge. The primary rationale for the clinical use of mesenchymal stem cells (MSCs) was their immunomodulatory properties. Although there is still no consensus among experts, a meta-analysis of several pre-clinical and clinical studies suggests that MSCs therapy for COVID-19 has shown some promising results in safety and efficacy. It effectively reduces the high mortality rate of COVID-19 and does not increase the incidence of adverse events. A wide variety of possibilities makes this cutting-edge therapy a turning point in modern medicine, providing hope for untreatable diseases. I firmly believe that cell-based therapeutics will overcome the financial and technological challenges soon after returning to everyday life.
How do you picture Iran's situation in pre-and post-COVID time?
Along with other avant-garde countries, Iran started to invest in stem cells research from the very beginning. Royan Institute announced the development of the first human ESC line, and Iran became the first Muslim country to generate, culture, and froze hESCs in 2004. During recent years, Iran has achieved outstanding development in other stem cells fields, including iPSCs, MSCs, CAR-T Cells, and Extracellular Vesicles (EVs).
Are all cell therapies offered in Iranian clinics safe for patients?
Like elsewhere, the premature application of stem cells in Iran, which has violated the Iranian Ministry of Health and Medical Education (MOHME)'s criteria, has inevitability harmed the public's trust in the country. Nonetheless, they are the minority compared to the great community of Iranian stem cell scientists and physicians. As a member of ISCT (the International Society for Cell and Gene Therapy), I firmly believe that the Iranian scientific societies can and should take a leading global role by participating in international ethics communities, such as ISCT's committee on the ethics of cell and gene therapy. International collaboration is a must for the global stem cell community to ensure patients enjoy safe cell-based treatments. Iranian cellular therapeutics should be introduced for neighboring countries with maximum transparency. Nevertheless, Iran's national committee for ethics in biomedical research (based in MOHME) did an excellent job in recent years by establishing ethics committees in nearly all universities and has enhanced biomedical researchers' knowledge in this regard.
Are you optimistic about the perspective of stem cell therapeutics in Iran? Are there any particular hurdles that differ Iran's situation from other countries?
I suppose some specific bottlenecks differ the future of stem cells technology in Iran from other pioneer countries. If I were to categorize them, I would point out financial, legislative, and technological issues.
Regarding the financial hurdles, I refer to the reduced ability of Iranians to pay for innovative therapeutic approaches because of the current economic problems. Although the cost of medical services has not been increased significantly, patients and physicians are satisfy of the primary level of healthcare. The economic challenges are mainly rooted in international sanctions and the effects of the pandemic.
Concerning the legislative issues: The MOHME, as the primary regulator and policy-maker of health services in the country, has adopted stringent rules for cellular therapies. For instance, among diverse specialties involved in the stem cell field, only three groups of specialists are allowed to run a cGMP facility. The crucial question here is whether MOHME will facilitate clinical studies by implementing more practical supervision or not. In my perspective, it is absolutely possible to modify the legislation to restrict unproven cell-based interventions and promote safe and effective practices in Iran. If the current situation continues, unlicensed products will occupy a larger market share right after the pandemic. Another current incomprehensive regulation insists that a cGMP facility is approved only if placed in a hospital, even for minimal cell manipulations. Hence, unlike most countries, large and sophisticated Iranian biomedical companies with standard clean rooms, such as Cell Tech Pharmed, cannot supply their products to distant medical centers.
Last but not least is the technological barriers, precisely when industrialization matters. Iranian stem cell scientists have proven their enormous scientific mastery over the previous two decades. Prominent and enthusiastic clinicians have always been a comparative advantage for the country. The commercialization of cell-based products has been recognized as the bottleneck and could be a more severe issue in the future. Additionally, as a result of the current recession, national grant bodies are not able to support the increasing costs of experimental research projects anymore.
Do you believe the health tourism sector in Iran could act as an opportunity for economic recovery in the post-COVID era? Please refer to Mashhad in particular.
As the world faced this unprecedented global health and economic challenge with the COVID-19 pandemic, tourism has been among the most affected sectors in virtually all countries worldwide. The adverse consequences of the COVID-19 on the travel industry were specifically immense in Iran, with its tourism-dependent economy. Hopefully, we anticipate a responsible recovery of the tourism sector from COVID-19 in early 2022, and medical tourism could be reopened shortly.
In terms of health tourism, renowned Iranian physicians and well-equipped medical centers provide high-tech medical services, including cell-based therapeutics. These unique services are not only of high standards but also offered at very reasonable prices. Hence, tourists from neighboring countries are genuinely welcome to benefit from these exceptional medical services. I am pretty confident that Iran, particularly Mashhad with its pilgrimage attractiveness, is a highly competitive destination. Iranian stem cell community should develop strong measures to build a more resilient tourism economy post-COVID-19.
End Item