Here is the full text of Dr. Boroumand's interview:
Akhgar Tabesh Company was established in 2011 to design and produce optimal and efficient heating systems backed by the certificate of the grant of a patent of the smart radiant heating device (registration no.: 71013) in Iran. Akhgar Tabesh Company fully localized smart radiant tube heater systems for the first time in Iran and manufactured products in Iran and distributed them internationally that were once imported from Italy.
We have continuously designed different radiant heating devices and attempted to offer the most appropriate heating option for each application and space at Akhgar Tabesh. To this end, we have designed and organized the research and development department accompanying the engineering department of the radiant heating systems company in different types with thermal power of 30 to 300 kW and marketed them after obtaining technical approvals and the desired quality during the last ten years by assessing customers' requirements continuously.
For example, we assume that we aim to heat a hall with a thermal load of 300 kW. There are two solutions to heat the hall: a solution will be to implement and install ten sets of radiant heating systems, each one with thermal power of 30 kW, and our second solution will be to install simply a central radiant heating system with thermal power of 300 kW. Our colleagues are operating in the sales department and if required, the colleagues working in the technical department describe the advantages and constraints related to both suggestions entirely and clearly and solutions for our valuable and dear customers and help them in determining the optimal and profitable option considering the special conditions of each location. At this point, sometimes, a customer's case situation may be such that the devices and systems available on the market are not entirely appropriate for the customer for some reason. Accordingly, we even design and manufacture exclusive devices for business owners in these circumstances and attempt to present the most suitable device to them considering their specific demands, both technically and in terms of Rials costs.
We know that selecting heating devices appropriately, ranging from the systems employed to heat the workspace or systems used for other functions such as radiant furnaces, directly influences the efficiency and current cost of a business. For example, we emphasize at this point when introducing the Parto central system to some customers that you may recognize the initial cost related to the supply and installation higher than local systems such as the Azar model at first glance. However, you will then acknowledge that the central system is a more appropriate option recognizing the incidental costs of the local radiant heating systems such as gas piping, electrical cabling, and chimney supply (if required) for each device that we can expect that its number to reach to 20 or 30 in an industrial hall. Also, we explain to customers that the initial cost considered for the central system in a short period will be compensated over time by eliminating the maintenance costs of each local system, significantly reducing energy consumption, and minimizing energy waste, and, in other words, return on investment will be happened.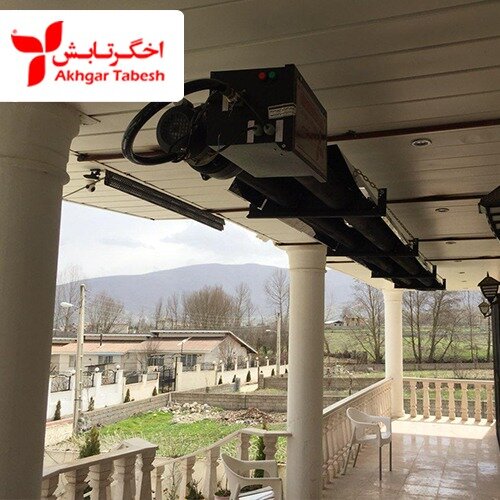 We can offer new, day-to-day, and more optimal suggestions to meet the business owners' demands due to the dynamic nature of the company's activities and the efforts made by co-workers operating in the research and development department. We can classify these suggestions in today's circumstances as follows:
1) Parto Central Radiant Strip Heating System
This system is manufactured in 3 capacity groups, including 100, 200, and 300 kW, with a maximum of 230 square meters of radiant surface. This system can heat a hall with an area of 1000 square meters in less than 30 minutes.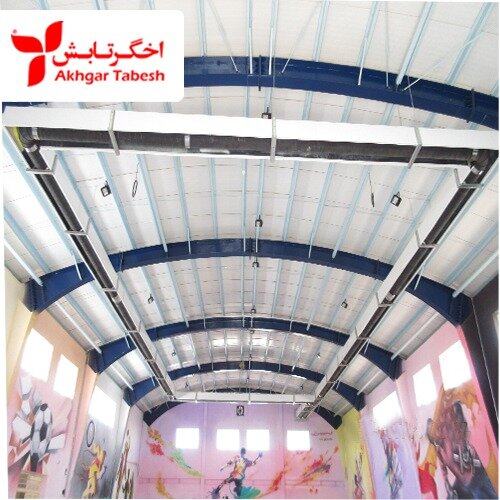 2) Local Radiant Tube Heating System (Azar, Taban, and FanTab models)
The local radiant heating system is the most popular radiant tube heater system in the world. Nevertheless, we have designed and manufactured unique models in different applications in Akhgar Tabesh and recommend them depending on customers' requirements. Our radiant heating systems are classified into three models: Azar, Taban, and FanTab; their shapes are different and have different arrangements of the pipes.
3) AGREEN radiant Strip Heating System
Putting the advantages of central and local radiant heating systems together helped us design and manufacture the AGREEN system. We can consider this system comparable to the Parto system in terms of thermal power and radiation level and similar to the local system in terms of consumption and ease of installation. It is impossible to classify the scope of users who apply radiant heating systems into two groups, central and local, with a clear limit. Passing the time and considering the applicants' requirements for this type of system convinced us to consider a medium limit for radiant heating.
Improving the parameters that can influence heat transfer has enabled us to manufacture an AGREEN system with much higher thermal efficiency than more traditional local systems. I should note that the thermal power of the AGREEN system is 20 times that of local Radiant tube heating systems. Applying this new system helps us reduce the problems related to using these local systems recognized as the heat pipes such as gas piping and electrical cabling, and the torch is installed outside the hall to provide more safety. The gases produced by combusting the AGREEN system are discharged in the unrestricted and open-air, and accordingly, it can help solve air pollution, which is one of the fundamental problems of applying Radiant tube heater systems, particularly in gyms.
End Item